Frontend Board Assembly
The extensive evaluation of the different H-Mode mixer configurations together with the progress made with the roofing filters has led to a 'production' Frontend Board shown fully assembled in the following picture: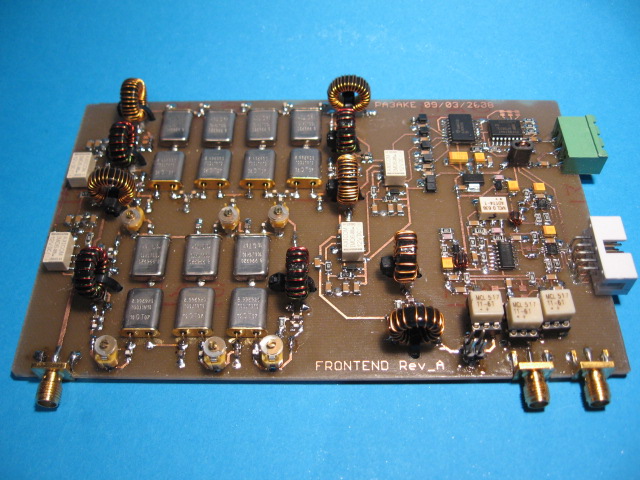 The board is euro-card sized and gives home to the following sub-circuits:
FSA3157 H-Mode mixer with I2C DAC controlled squarer symmetry and mixer bias voltage.
9MHz diplexer mixer IF port termination.
2600Hz wide quad hybrid 2x 4-pole SSB roofing filter.
500Hz wide quad hybrid 2x 3-pole CW roofing filter.
I2C support circuits and signal relays to switch between SSB and CW roofing filter.
Low noise LDO series regulators to power the different sections. The board should be powered between 13-15 Vdc.
The RF signal connectors (IF-OUT, RF-IN, LO-IN respectively) are mounted on the long side of the euro-card with SMA edge-mount connectors. Power and I2C is supplied via the connectors on the short left side. The following two pictures show the board when mounted inside its metal box: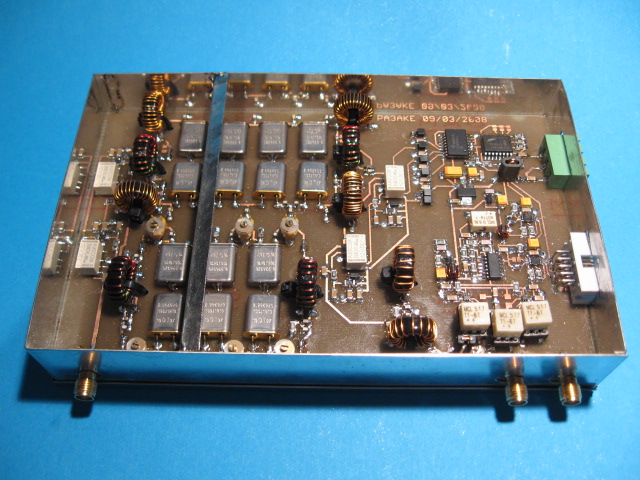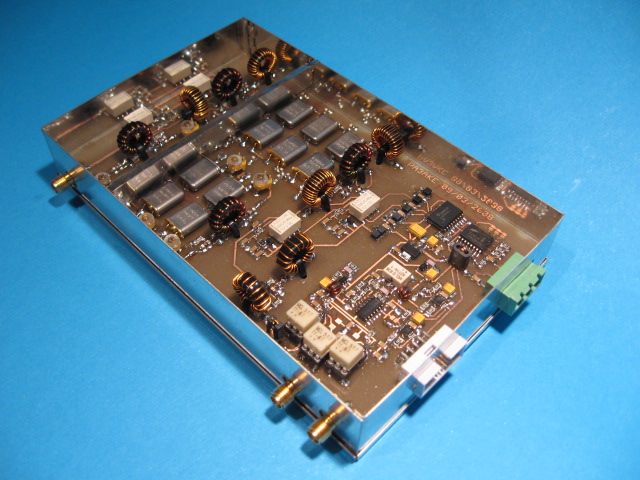 The following picture shows the ground plane side of the board. Visible are the solder points of the VIA's made with 1.1mm OD eyelets, the 2.5mm tie-wraps that fasten the toroids to the board and 3 wires and a short piece of miniature coax that could not be routed on the top-side of the board without degrading its RF-performance. Using a "poor-mans" 3rd-layer with simple wiring is preferred above etching those tracks on the bottom side of the PCB, which would weaken its ground plane function.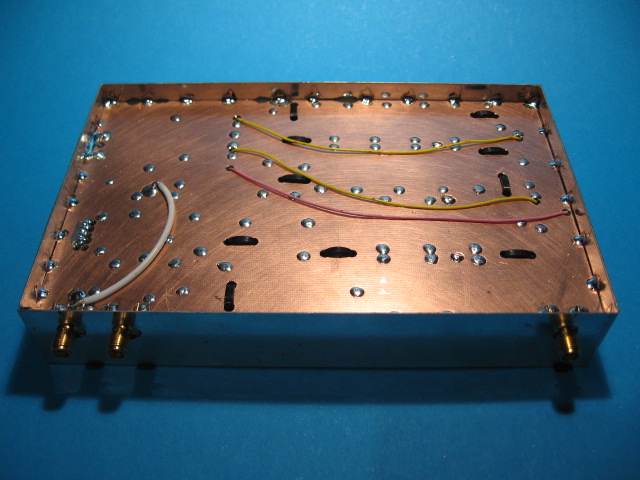 The following two pictures show the extra shielding introduced to get the best possible stop-band performance of the two roofing filters. (-105db with the lid on) The shield is made of thin 0.22mm tinned metal plate. It is bend at the top and because it is less strong than the top cover, it will bend slightly when the box is closed, sealing of both compartments perfectly. Even a small air gap will give a surprisingly noticeable RF leak!
A series of extra VIA's are placed on the board to firmly connect the shield to the ground plane electrically and mechanically. It is important to solder the shield ONLY to those VIA's and NOT to the VIA's that are used to connect the filter shunt capacitors to the ground plane!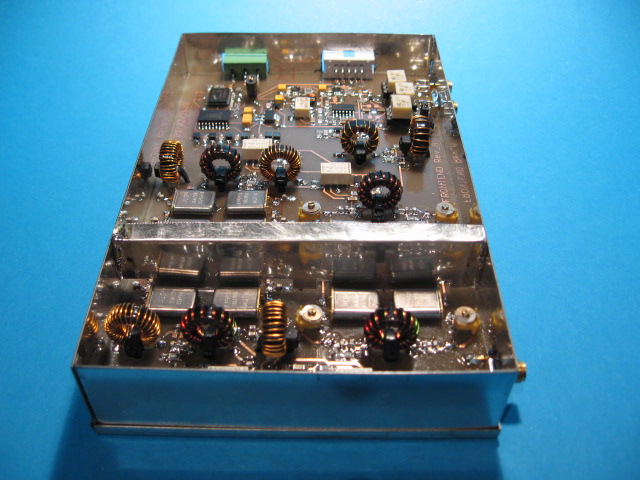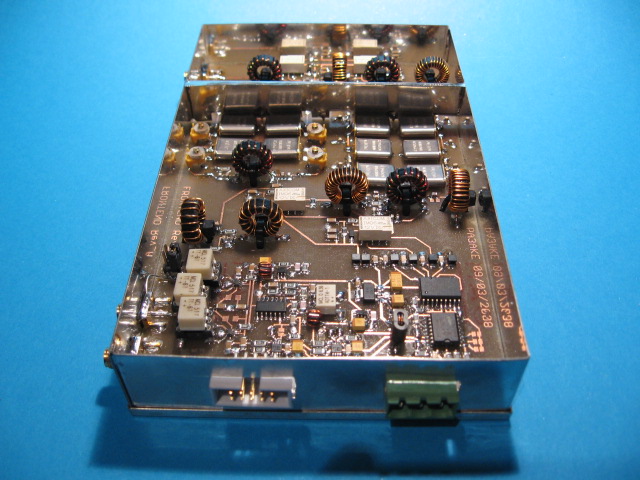 Documentation
The following link points to the Frontend Board documentation file available for download for those who want to build this frontend:
Frontend Board documentation in PDF format
This PDF contains:
Schematics.
Bill of materials.
Component side, scale 1.6.
Back side, scale 1.6, showing the 4 tracks to be wired by hand.
Top side, mirrored scale 1, for PCB production.
Bottom side, mirrored scale 1, for PCB production if needed.
Specification
The following table summarizes the key parameters of the Frontend Board:
Frontend Board Specs
Dimensions
160 x 100 x 30
mm
Weight
320
gr.
Supply Voltage
+13.5 to +15
V
Supply Current
50 - 90
mA
IF Frequency
9
MHz
RF Input Impedance
50
Ω
IF Output Impedance
50
Ω
LO Input Impedance
50
Ω
Minimum LO Input Level
+3
dBm
Maximum LO Input Level
+17
dBm
RF - IF isolation at 9MHz for Frontend Board alone
58
dB
RF - IF isolation at 9MHz together with BPF-box, 160M-6M
> 130
dB
LO - RF leakage for Frontend Board alone
-45
dBm
LO - RF leakage for Frontend Board together with BPF-box, 160M-10M
< -125
dBm
SSB Roofing Filter
Conversion Loss from mixer input to filter output
6.0
dB
-3dB Band Width
2590
Hz
-60dB Band Width
18
KHz
Stop Band Attenuation
110
dB
20KHz separated out-of-band IIP3
+50.1
dBm
2KHz separated close-in IIP3
+46.6
dBm
100Hz separated in-band IIP3
+39.6
dBm
CW Roofing Filter
Conversion Loss from mixer input to filter output
7.4
dB
-3dB Band Width
485
Hz
-60dB Band Width
5.2
KHz
Stop Band Attenuation
110
dB
20KHz separated out-of-band IIP3
+50.6
dBm
1KHz separated close-in IIP3
+47.1
dBm
100Hz separated in-band IIP3
+29.9
dBm
Please use the following links to navigate to the detailed discussions of the following subsystems:
---
---